NEWS/SHOWS

HOME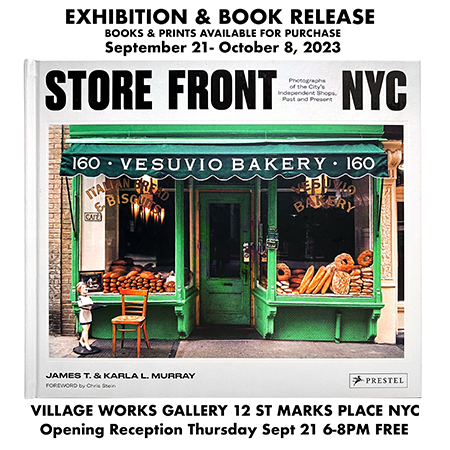 NEW BOOK: EXHIBITION & RELEASE PARTY
September 21- October 8, 2023
Village Works Gallery
12 St Marks Place East Village NYC

Opening Reception Thursday September 21
6-8 PM FREE
STORE FRONT NYC: Photographs of the City's Independent Shops, Past and Present

James and Karla Murray, Foreword by Chris Stein
Published by Prestel September 19th, 2023
For over a century, Mom & Pop shops have formed the heart and soul of New York, transforming a city of eight million into a network of mini-villages. Like the communities they serve, they joyously boast distinctive facades, their names proudly rendered in dazzling signage: Barney Greengrass, Balthazar, CBGB, Trash & Vaudeville, Lucky Strike, Lenox Lounge, Stonewall Inn and White Horse Tavern- all neighborhood institutions have become cultural and historical landmarks.
In this new book, Store Front NYC: Photographs of the City's Independent Shops, Past and Present, the Murrays bring together an extraordinary selection of iconic and never-before-published works celebrating the institutions that form the bedrock of New York City's legendary street culture. Chapters are organized by each of the city's five boroughs and include descriptions and maps, with an introduction by Blondie co-founder and photographer Chris Stein.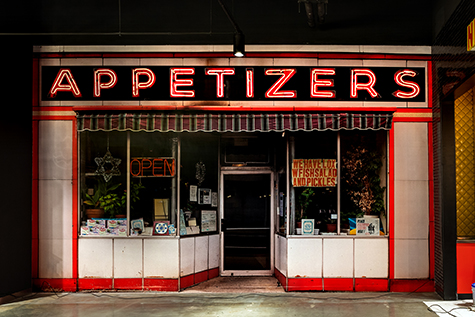 MOM-AND-POP STOREFRONT LARGE-SCALE INSTALLATION

The Market Line - NYC at Essex Crossing at 115 Delancey Street commissioned us to provide large-scale photos of "Mom-and-Pop" storefronts which tied into the diverse cultural and ethnic history of the Lower East Side.
Our 22 foot wide x 14 foot high life-size "APPETIZERS" photographic installation is an homage to the hundreds of Appetizing shops that were prevalent in the Lower East Side in the early 1900s when the neighborhood was home to many Eastern European Jews, who made up a quarter of the City's population. Now only one Jewish Appetizing shop remains.

WATCH YOUTUBE VIDEO HIGHLIGHTING INSTALLATION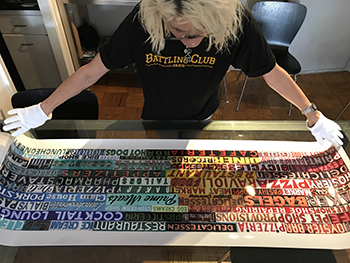 CHROMATIC SIGNAGE COLLAGE PRINTS

We have 3 limited edition sizes available:
- 8.5 x 32 inch width image printed on 12 x 36 inch Kodak Professional Endura Glossy Paper Edition of 50
- 11.75 x 44 inch width image printed on 16 x 48 inch width Fuji Crystal Archive DPII Glossy Edition of 15
(Photo left showing 48 inch print)

-18 inch height x 68 inch width image printed on 20 x 72 inch width
(6 foot width) Fuji Crystal Archive DPII Glossy,
Edition of 10

Custom sizing also available.

STORE FRONT PHOTOGRAPHIC INSTALLATION
at INDEED NYC OFFICES

We were commissioned to provide 8 of our large-scale photographs of New York City mom-and-pop storefronts to be installed as wall-coverings for the conference rooms at the New York City offices of the #1 worldwide job search site, Indeed.
Indeed has over 180 million unique visitors per month matching employers with job seekers, and they recently began moving into their new 125,000-square-foot offices in the unique Hippodrome building at 1120 Avenue of the Americas. the former site of the once-celebrated Hippodrome Theatre. The design concept for the new office space according to Derek Stewart, head of real estate at Indeed, "pays homage to interesting job industries that call New York home."

Indeed chose an interesting array of our storefront photographs printed at near life-size for their conference rooms. Many of the storefronts they chose were photographed by us between 10 and 15 years ago using 35mm film and appear in our critically acclaimed book, "Store Front: The Disappearing Face of New York." Sadly, our photographs are one of the only visual records of many of these unique New York City storefronts, as they have disappeared in the face of modernization and conformity and the once unique appearance and character of our colorful streets has suffered in the process.

Our storefront photographs were printed on Terralon Paperback, a PVC-Free Wallcovering made from 31% post consumer recycled materials. It is breathable and has extremely low VOC's and can contribute to various LEED credits.

These are the sizes they were printed at:
Patsy's Restaurant 13 feet W x 8.4 feet H
Smith's Bar 11.6 feet W x 8 feet H
Clover Delicatessen 14.2 feet W x 8.4 feet H
Ralph's Discount City 11.6 feet W x 8 feet H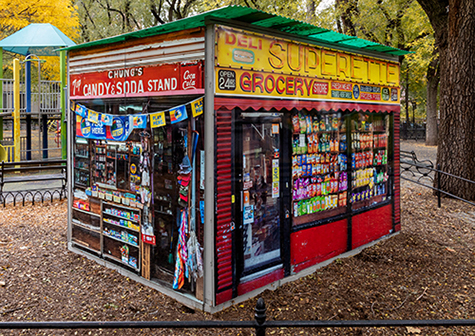 MOM-AND-POPS of the L.E.S.

Arts in the Parks: UNIQLO Park Expresions Grant -Public Art Installation at Seward Park in the Lower East Side: East Broadway at Essex Street
June 2018 - June 2019

Our wood-framed sculpture consists of near life-size photographs of four mom-and-pop neighborhood stores of the Lower East Side, many of which are no longer in business and have disappeared from the streetscape. Images of a bodega, a coffee shop/luncheonette, a delicatessen, and a newsstand recognize the unique and irreplaceable contribution made to New York by small, often family-owned businesses.
WATCH YOUTUBE VIDEO of L.E.S THEN & NOW